Rechallenging prior responders to anti-epidermal growth factor receptor (EGFR) therapy with the same targeted agent upon disease progression is a relatively new approach in the management of metastatic colorectal cancer (mCRC). Dr. Siu-Hong Lee, Specialist in Clinical Oncology in Hong Kong, discussed the evidence supporting this approach in patients with RAS wild-type mCRC who responded previously to an anti-EGFR therapy such as cetuximab, as well as his initial experience with this treatment strategy.
Management of RAS wild-type mCRC
"Patients presenting with RAS WILD-TYPE mCRC at our centre are typically managed with first-line irinotecan-based chemotherapy plus an EGFR inhibitor, such as cetuximab or panitumumab," said Lee. "The treatment is given for eight cycles, followed by a drug holiday until disease progression."
"In my experience, about half of the patients responded to the treat-ment, and most of them enjoyed a drug holiday of 4 to 6 months after treatment completion," he noted. "Although chemotherapy alone remains the mainstay of treatment after disease progression, emerg-ing study results suggest that rechallenge with the same anti-EGFR treatment used in the first-line setting may be considered in certain subgroups of RAS wild-type mCRC patients."
Rechallenge with anti-EGFR therapy
The concept of intratumour her-erogeneity and clonal evolution via drug selection forms the basis of rechallenge with targeted therapy in prior responders who develop progressive disease.
"Drug-sensitive tumour sub-clones, which are suppressed by first-line targeted therapy, may flourish during a drug holiday. Meanwhile, the survival mecha- nisms adopted by the drug- resistant subclones during first-line treatment can become detriment-tal to their own survival in the ab-sence of the drug," explained Lee. "These result in the re-expansion of sensitive subclones, which out-grow the resistant subclones dur-ing the drug holiday, rendering the tumour sensitive to the same targeted therapy again." (Figure 1) [J Pathol 2014; 232:264-273]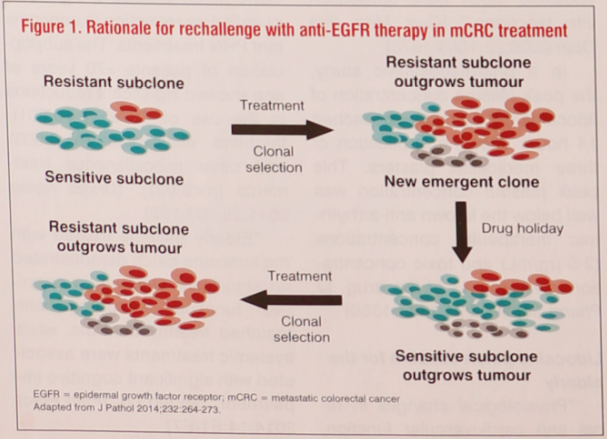 Resulty of a retrospective study
Success with the retreatment strategy has been reported with trastuzmab in breast cancer and sunitinib in gastrointestinal stromal tumours. [J Clin Oncol 2012; 30:2585-2592; N Engl J Med 2013; 368:2042-2043]
"In KRAS wild-type mCRC, the clinical benefit of retreatment with a cetuximab-based regimen after a treatment break was demonstrated in a retrospective study in prior re-sponders to anti-EGFR therapy conducted at the MD Anderson Cancer Centre in Houston, TX, US," noted Lee.
This study included 89 patients with KRAS wild-type mCRC who were rechallenged with anti-EGFR therapy after progression on a prior cetuximab- or panitumumab-based regimen. The median inter-val between prior treatment and re-challenge was 4.57 months. Prior response, defined as radiographic response or stable disease for ≥6 months, was seen in 41.6 percent of the patients. The rechallenge regimens utilized cetuximab in all cases, and the drug was combined with chemotherapy in 73 percent of the patients. [BMC Cancer 2015; 15:713]
Results showed better response to retreatment in prior responders to retreatment in prior responders to anti-EGFR therapy who were rechallenged afther a longer (≥me-dian) interval. (Figure 2) Simim- larly, progression-free survival on retreatment was also longer in prior responders vs prior non-responders (median, 4.9 vs 2.5 months; p=0.0.64).
In multivariate analysis, pa-tients with prior response to anti-EGFR treatment were found to be more likely to respond to the retreatment (odds ratio [OR], 3.38; p=0.019). In addition, there was a non-significant trend to-wards a better response in patients with a longer interval between prior treatment and rechallenge (OR, 2.37; p=0.086).
Experience and recommendation
"Interestingly, patients treat-ed with the anti-EGFR rechal-lenge strategy at our centre demonstrated a response similar to what they achieved in the first-line setting. The longer the drug holiday, the more likely the tu-mour will respond to the rechal-lenge," noted Lee. "Likewise, their adverse event profiles were similar in both settings."
Rechallenge with anti-EGFR therapy should be considered upon disease progression if a pa-tient with RAS wild-type mCRC had a good response to prior anti-EGFR therapy and a treatment break of considerable duration," e suggested. "Regrettably, most of my patients who were fit for the rechallenge strategy did not opt for this treatment option, primarily because of financial concern."
"The option of anti-EGFR re-challenge is currently not included in international guideline recom-mendations probably due to a lack of robust clinical data. However, this approach may offer a fairly good disease control rate in late-line settings, where effective treat-ment options are scarce," con-cluded Lee.